To say that there are some good "running spots" in Eugene is like saying there's some good seafood in the ocean. There is a vast expanse of ocean critters; You've got fish and shellfish and even seaweed. There are different sizes of fish, different varieties, different environments. There's a boatload-- literally-- of choices!
My point, other than to stimulate cravings for some grilled shrimp, is to let you know: Everywhere in Eugene is a good place to run!
Photo Credit: Eastbaytrails.com
Before
traveling there myself
, I had looked up some good locations for running. Yet, I threw plans to the wind when I got to my hotel on Thursday night and saw all the possible routes awaiting me in the wood-chipped and shade covered luxury that is Eugene. There was no deviation from one plan however: To run Pre's Trail.
I'll leave my personal feelings about
Steve Prefontaine
for another post, but it goes without saying that this man was a distance running legend. Go ahead and watch a race. Pre clearly ran with guts; He ran with courage, and he left no doubts about his work ethic or drive. As a runner, I do admire that approach to racing. It's one of the things that has made Pre synonymous with distance running. It's also why I was itching to get out and run on the trail he most frequented while running for the University of Oregon. There was no way I was going to leave Eugene without checking this off my runner's bucket list.
I hit Pre's Trail first thing after grabbing a snack and setting down my suitcase at the Residence Inn. The hotel was in prime location: Right across from Alton Baker Park. The park was a gorgeous expanse of green grass, blooming flowers and endlessly interlooping trails that ebbed and flowed with the Willamette River to the south. Google Maps had told me to follow along the bike trail in order to get to Pre's Trail. After an initial struggle and a consultation with the park map, I made my way down the trail and relaxed into the stunning scenery. The paths were lined with tall pines and deep green foliage- a happy reminder that I was no longer in the midwest (
RELATED: Book Review on "Born to Run."
)
After winding through the woods and passing by Autzen Stadium at UO, I found the marker as clear as day: Pre's Trail.
The path itself is a runner's dream. The wood-chipped surface leads you through shaded woods and by a large pond before spitting you out into the Oregon sunlight to follow along a small tributary of the river. Along this stretch of the trail, there are some very unique and quirky houses along the tributary that I enjoyed as I ran by. After a while, my body reminded me that it was nine o'clock back home and high time for dinner. I sadly turned around and made my way
back through the serene firs and gave God another quick shoutout for creating such a breathtaking place for me to explore.
While
The Steve Prefontaine Memorial Jogging Trail
is about four miles, there are plenty of easy ways to add on mileage with the connecting bike paths. I would argue that it's a must for any runner who's adventuring out in Oregon. If not for the moments of quiet bliss that come from trekking through God's great creation, at least do it for the chance to run where great runners did-- and
still do
-- make their footprints. Perhaps the run will spur on your dreams to one day be making those footprints yourself.
The Details: The trail is located in Alton Baker Park which is east of the Ferry Street Bridge in Eugene, Oregon and is off of Martin Luther King Blvd. Additionally, runners can access Pre's Trail from the Autzen Foodbridge or the Knickerbocker Footbridge in Alton Baker Park.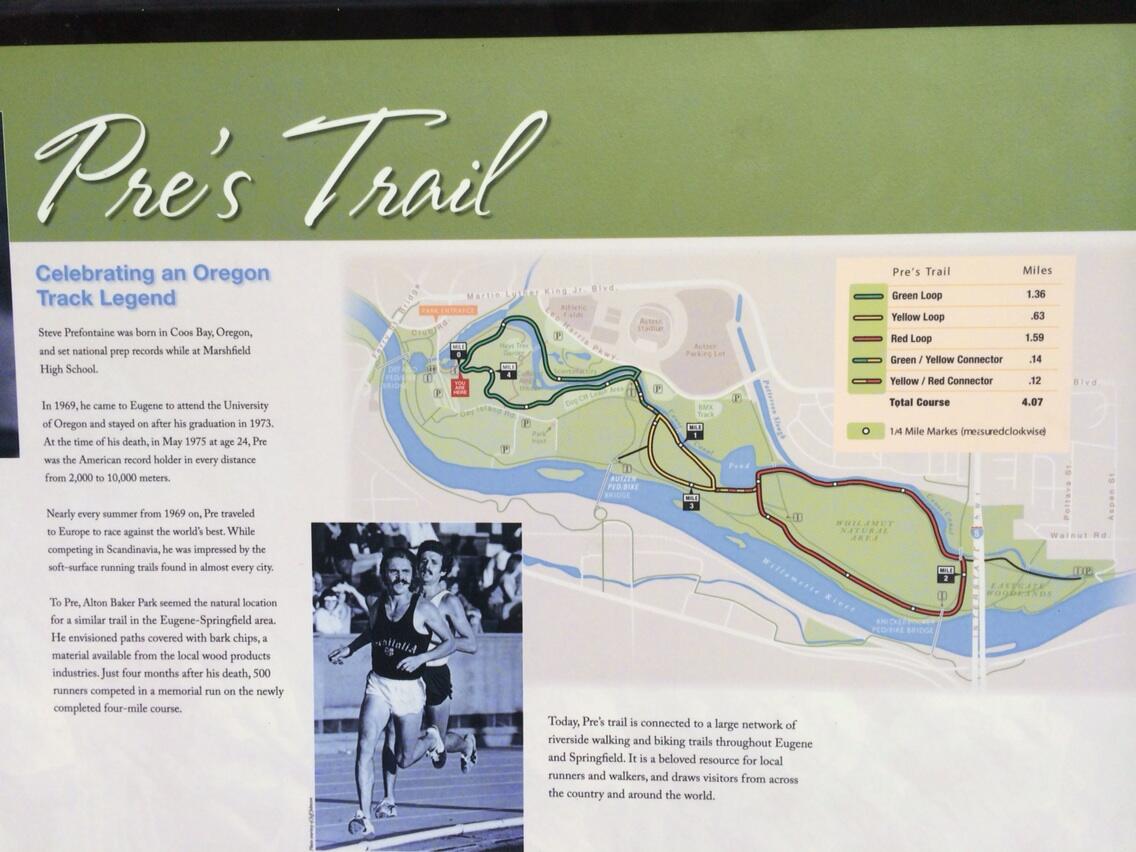 If you've run on Pre's Trail or plan to: Let me know about it by leaving a comment below!
RELATED: Unforgettable Runs: Pinckney Island Preserve, Hilton Head Island
RELATED: Unforgettable Runs: Handies Peak, Colorado
RELATED: Who's Who in Eugene, Oregon: Elite Runners at the Pre Classic