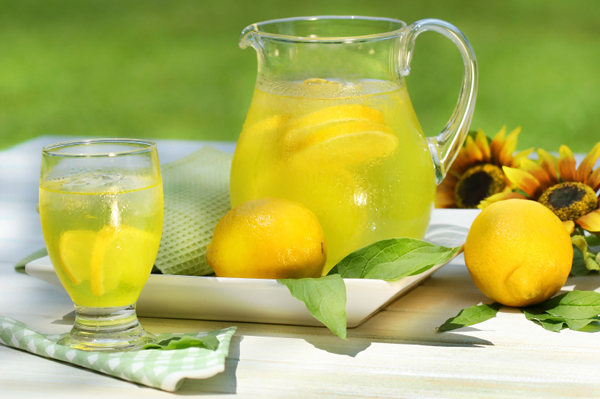 (photo credit: sheknows.com)
Last week, I decided that it was high time for a lemonade stand with the kids I babysit. It was something we didn't get to last summer, and something they hadn't done before! I was amazed at how well it went. First, we had to make signs for the stand. We were in luck because the family had just purchased a new kitchen table, which meant giant cardboard signs to be imagined. We spent an hour or so doing that, and then got to work on making the stand-- fashioned out of crates and covered with a double layer of cardboard-- and making the lemonade and popcorn. See, after years of doing lemonade stands myself, I realized that popcorn might be a good seller. I was right. Popcorns where the money's at kids: especially if you make two kinds like we did last week. Customers were crazy for both the Kettle Corn and Regular Popcorn. The kids enjoyed making the popcorn baggies and being taste testers for our lemonade.
(RELATED: Adventures in Babysitting: Boat Making)
Around noon, we officially opened shop. I put out a message on Facebook, to see if we could get a few people to come out. It was an overcast day, so I was a little worried that the idea would be short lived. In the first five minutes, a woman stopped to buy lemonade. But after that, we just stood with our signs for the rest of the hour. Then, business began to pick up. A couple of my friends stopped by. One even brought the children she nannies, and they helped with the sign holding for a while. Then, three of the neighborhood kids came to help out as well. Before we knew it, it was 3:30 and we'd made...wait for it: $45! Isn't that crazy?
(photo credit: commons.wikimedia.org)
I think the key was letting the kids decide how they wanted to be involved. Most days, they fight quite a bit, but on that day: not once! Both of them were in their element. They were dancing to get cars to stop, acting like little business-people, and taking turns handling the money and running the lemonade and/or popcorn to people in cars. I could not imagine a more successful day! Not only did they learn about teamwork, but they also learned about how business works, how to address adults and customers, and how to come up with creative marketing! I love how they just kept telling me, "I love this!" I'm so glad they had fun, and I did too!
After doling out half the money to the Humane Society, we had the other half to give to our "workers for the day." We told them they can either take their money or join us for a bike ride for ice cream in the near future. All in all, it was an adventure in babysitting that I'm proud to say, was absolutely awesome!
Check out my other adventures in Babysitting:
- BOAT MAKING
- "CANDYCALA"